Verfasst von admin am 24. January 2011 - 20:47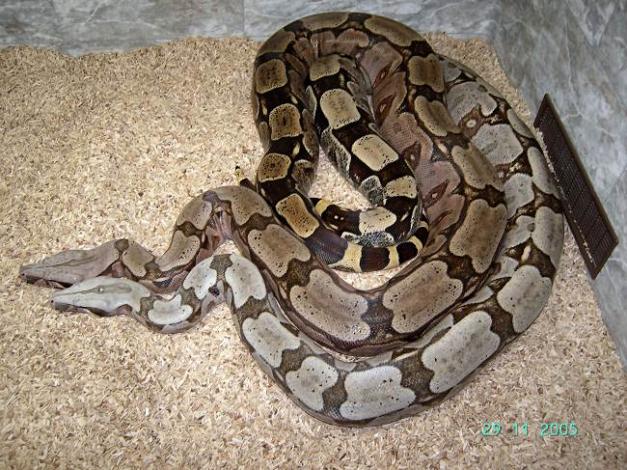 In Bolivien gehen die Verbreitungsgebiete von Boa c. constrictor und Boa c. amarali ohne natürliches Hindernis ineinander über. Daher haben die Kurzschwanzboas aus dem Norden des Verbreitungsgebietes im Gegensatz zu den Brasilianischen Amaralis schon eine gewisse Ähnlichkeit mit Boa c. constrictor. Man beachte jedoch, dass die abgebildeten Tiere den typischen kurzen "Amaralischwanz" haben. Foto: Volker Kratzke
Beschreibung_en:
Boa c. amarali, distribution area Bolivia
Beschreibung_fr:
Boa c. Amarali de Bolivie

En Bolivie, les aires de distribution de Boa c. constrictor et Boa c. amarali se rejoignent sans être séparées par aucune barrière naturelle. Par conséquent, et contrairement aux Amaralis brésiliens, les boas à queue courte boliviens du nord de l'aire de distribution ressemblent à Boa c. constrictor. Les animaux sur la photo possèdent la queue courte typique des amaralis.

photo: Volker Kratzke
Um das Bild in Originalgröße betrachten zu können, klicken Sie bitte auf den oberen bzw. unteren Bereich des Bildes.
To view the picture in original size, please click on the top or bottom of the image.
Cliquez en haut ou en bas de l'image pour la visualiser dans son format original.