Verfasst von admin am 8. May 2011 - 1:34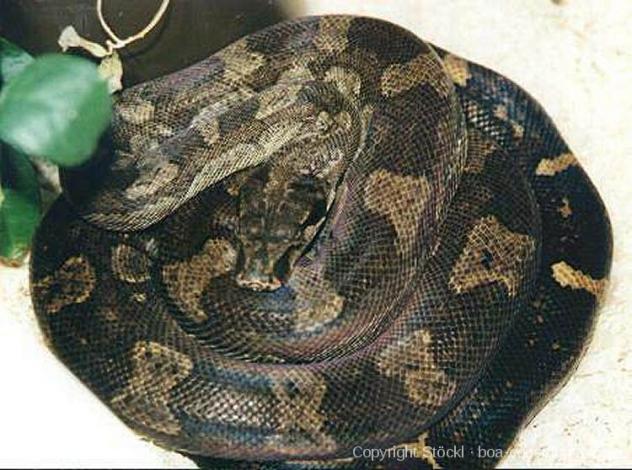 Boa c. nebulosa, Wir haben diese Unterart 1996 gezüchtet und anschließend die Jungen samt der Eltern verkauft, weil uns das Aussehen dieser Boas nicht sonderlich gut gefiel Auch wenn die Dominicaboa sehr selten ist, ist sie deswegen noch lange nicht attraktiv (Schönheit liegt im Auge des Betrachters)
Beschreibung_en:
Boa c. nebulosa, We used to breed this subspecies back in 1996. Afterwards we sold the parents along with the babies because the appearence of these boas didn't meet our taste. The Clouded Boa is very scarcely kept in captivity, but it isn't an attractive snake (however, beauty lies in the eye of the beholder)
Beschreibung_fr:
Boa c. nebulosa, Nous avons reproduit cette sous-espèce en 1996 et avons ensuite vendu les parents avec les bébés, parce que nous n'aimions pas beaucoup l'aspect de ces boas.

Boa c. nebulosa est assez rare, mais nous ne le trouvons pas très attrayant.

(Mais la beauté est dans l'oeil de celui qui regarde...)
Um das Bild in Originalgröße betrachten zu können, klicken Sie bitte auf den oberen bzw. unteren Bereich des Bildes.
To view the picture in original size, please click on the top or bottom of the image.
Cliquez en haut ou en bas de l'image pour la visualiser dans son format original.