Gene test to tell true boa constrictors from crossbreeds
March 2009
Good news for the increasing number of Boa constrictor enthusiasts who want to make sure to acquire pristine wildlife forms ("purebred Boa constrictors"):
An austrian student of veterinary medicine will tackle this subject in the context of his diploma thesis. Objective of his work is to elaborate the genetic differences of the subspecies of boa constrictor and its local forms. After his work is finished it will be possible to provide evidence whether or not a boa constrictor is actually a pristine wildlife form or not.
The corresponding equipment for such a research is ready and available at the university. The student has asked us for our support that we gladly provide him with. We will keep the visitors of our website informed as to the progress and publish the results of this important work.
It seems that bad times are breaking for "purebred swindlers".
Abandoned boa - the consequence
July 2009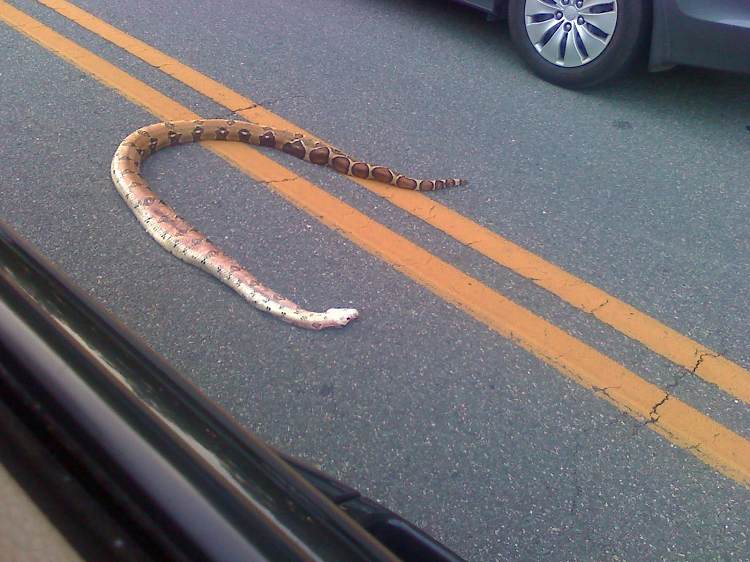 photo: Jim Collurak
This Common Boa was run over on a road in Union County - North Carolina/U.S.
Apparently the owner wanted to get rid of it and abandoned the animal by turning it out from the car.
Needless to say that the boa had no chance....
It is a pity that such a beautiful boa was owned by such an idiot. We sincerily hope that he/she will pay for this.
Jim Collurak, who found the boa put the photo kindly to our disposal.
If you know of this boa and the owner or if you know of someone who has had such a boa and now it is gone please notify the corresponding authorities.